About WatchWorks
The strength in family has been the foundation and reason for the success of our company, WatchWorks. For nearly 30 years, WatchWorks has had the privilege of being Southern California's premier watch dealer serving our community with the highest level of customer service and customer satisfaction. That is our top priority and has been paramount to our success and growth.
From a young age, Eddie Tatoulian had a passion and interest in fine time-pieces. In 1975, at the tender age of 13, Eddie moved to the United States with his family. Unsure what the future would hold, Eddie began reading about the inner workings of pocket watches during his free time in school. After graduating high school at just 16, Eddie enrolled himself at the California State University, Northridge. To pay for his college education, Eddie began to work at a watch store in Santa Monica, Tic Time. Eddie's knowledge and passion was evident. His interest quickly became his profession.
In 1988, Eddie opened his first store in San Bernardino. Less than a year later, upon graduating from the University of Southern California, Eddie's brother-in-law, Nick, joined the company. With a location in San Bernardino and Cerritos, Eddie's brother Ara, also a USC graduate, joined the family business. Since inception, Eddie, Nick and Ara expanded the dream, and today, proudly operate 4 stores located throughout Southern California. As a family, the partners set the WatchWorks foundation focusing on service and compassion.
Providing quality care to all our customers is what we pride ourselves on. Each of our associates is passionate and knowledgeable about our products and services offered by our company. We are experts on watch industry trends and ensure happiness with each interaction with our customers. We provide all the information needed to make the correct decision when purchasing or servicing your watch.
WatchWorks stores are authorized dealers for all brands stocked. We offer a wide realm of watch brands to fit each person and their interests. You are sure to find your most desired time piece at our stores. However, if you desire a watch that is currently not in stock, it can be ordered and delivered to you within a few days. Additionally, we are able to obtain special orders from manufactures rapidly. As an authorized dealer, all watches sold carry a manufacturer's warranty. In addition, WatchWorks provides an added year of warranty coverage for each watch sold, providing the ultimate peace of mind.
With minimum 25 years of experience, WatchWorks professional watchmakers are certified by the leading watch companies in the business. WatchWorks is an authorized parts dealer to all brands. All of our associates and watchmakers can guide you to make an informed decision specific to your repair. Many services can be done while you wait and all repairs are handled by our internal staff; no watch will get shipped out to outside service providers or manufacturers unless specifically mandated. Providing service in-house gets the watch back on your wrist sooner and eliminates the possibility of damage or loss during shipping.
The strength of our chain, our ethics, and dedication to our customers has allowed for our success for the last quarter century. To continue with the family tradition, Eddie's daughters, Ariana and Jenna, joined the company. Ariana graduated USC in 2013, married, and in 2016 had Eddie's first grandchild, Alana. The tradition continues as Alana comes to visit grandpa on Saturdays. Jenna also attends USC and works alongside Eddie every weekend. Our customers are all our extended family. We look forward to servicing your needs and thank you for your faithful patronage to WatchWorks.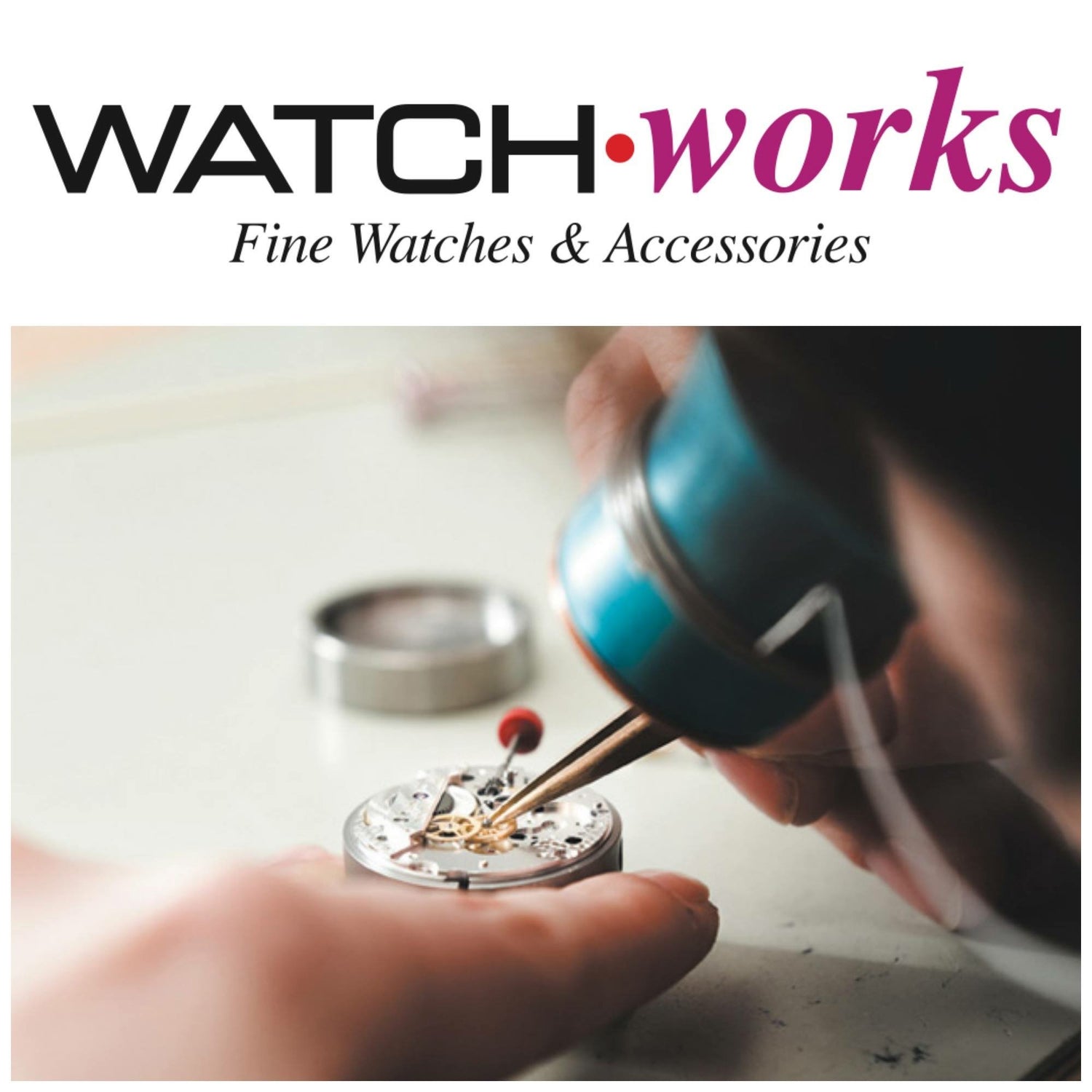 Sell Your Watch
Bring in your piece for a free estimate or appraisal today!
Email us if you have any questions about selling your time-piece!
Email US
How It Works
Get an Offer

Schedule a Visit and meet privately with a specialist who'll evaluate the watch or

Tell us about your watch and Supply some images and documents for our specialists to review.

Ship Your Watch

Use the pre-paid fully-insured labels provided by us to send your watch in for authentication and to finalize your offer.

Receive Payment

Once you accept your final offer, we will cut you a check or provide you with store credit.
How We Do It
Fair Offers

We use our years of experience to give you a fair offer based on market value.
Transparency

We keep you in the loop throughout the process so you don't feel left in the dark.
Trust

We have worked hard to establish trust among our clients because we know that it can be scary selling your watch. We have completed tens of thousands of transactions, earning positive reviews along the way.
Convenience

Can't come in person? You can start the watch-selling process at the tip of your fingertips by sending us an email.
Risk – Free

If at any point during the process you change your mind, your watch will ship back to you, on us.